In The Last Friend you take the role of a man teaming up with man's best friend in a post-apocalyptic tower defense mash-up.
The last thing a wasteland wanderer needs is to feel alone. When survival is on the line its helpful to have trusted friends that will watch your back. After technology causes the collapse of society, who better to have at your side than an intelligent talking chihuahua.
The Last Friend is a tower defense game full of fist fighting action that features a cast of dogs to help defend your future. You play as Alpha, a red-bearded man who travels with his closest companion T. Juan, a small dog of extraordinary intelligence, on a shared quest to survive. Society has fallen prey to gangs of ravenous social media fanatics who commit destructive acts like arson for the amusement of their followers. Someone has influenced the aptly named "basics" into kidnapping dogs for use in their social misdeeds. The pair of heroes catch wind of this devious plot and fight to liberate dogs from an evil corporation full of social media monsters.
Alpha is a man of few words but many punches. Throughout many of the stages, fanatics descend upon T. Juan in his technologically decked out mobile home. Alpha sets up dog controlled defensive towers before diving into the action himself to pummel foes with aggressive combos and special moves. The combat continues in waves of enemies as the duo explores and rescues dogs with new abilities along the way. As you collect and name the rescued Dogs, they will fall into categories of turrets and skills that you can equip for each level. The German Shepherd, for example, will bark at enemies from behind constructed walls while equipping the Border Collie will grant you a movement speed boost. Super dog abilities will later grant moves that unleash Alpha's animal instincts.
Fighting as Alpha is exciting with smooth controls on the recommended gamepad. Movement is organized into lanes where Alpha can build on the power grid close to the command center, then charge into the fray of oncoming enemies. Alternating between fast and strong attacks at different intervals results in a variety of combinations to wail on the bad guys. There is a stamina bar used for parrying, counters, and special moves, that recharges with basic attacks. An especially useful grab can also be used to throw enemies into each other or into different lanes.
Before each wave of defense, alpha has time to deploy turrets in preparation. Using scrap metal as currency, Alpha can eventually deploy friends that attack with water that slows, fire that burns, or traps laid in any given path. Stages are lost when either Alpha or the RV lose all of their health. Fortunately there's still room for T. Juan to upgrade the vehicle's abilities using stars earned by completing stages and side objectives for completing under a time limit or with full health intact. Along the journey you'll also meet devious bosses and other characters like Lupe, the nice old lady who will cook dog treats into special snacks that power up your friends and their turrets or abilities.
The action is backed up by a soundtrack of upbeat synthwave and electro-rock. Most music features a synthesized guitar lead carrying melodies reminiscent of music found in 80's cinema in a way that props the humor of the story and wacky characters up high. While the animated cutscenes are stylish, there are a few missed opportunities where sound effects could have been used to enhance events and actions taking place in the story between levels.
There is some gameplay variety offered in the way of towerless attack levels, where Alpha heads down a dangerous road alone. For these levels as well as the boss fights, Alpha will rely more on skill type dogs instead of building turrets. Additional obstacles and objectives brought on by the story as new types of enemies appear with different tactics. Occasionally, a level will play more like a side scrolling beat 'em up or lead into a one one one boss fight. Since the tower defense mechanics are solid, a Co-op or versus multiplayer mode would've been a lot of fun, or at the least make for an exciting addition for a potential sequel.
One thing to look out for while progressing is choosing the best upgrades for the van and turrets. Playing to the strengths of your most reliable dogs will stack in ways that make the game almost too easy if you press the right advantages, or simply rely on Alpha's fists to do most of the heavy lifting. While doing so is a lot of fun, you may see yourself falling into the same strategic tower patterns for each level, which can make the gameplay feel stagnant over long play sessions. Some towers like traps and utilities may be less useful than others, but there's plenty of choices to flavor every player's style.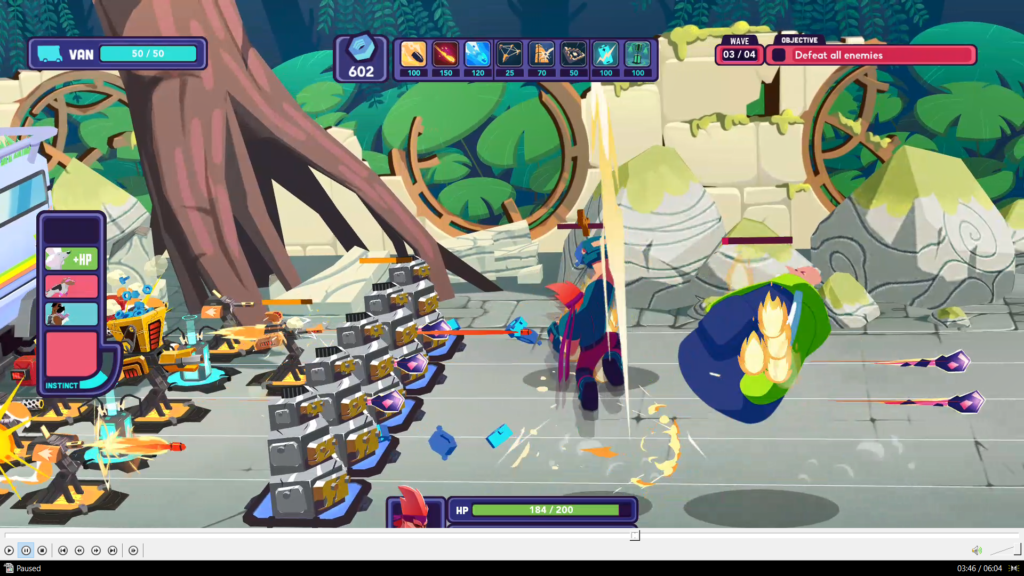 There is however an interesting side quest offered by an overworked barista that involves replaying previous stages with arranged teams of dogs you may not have used yet. In doing so you'll help him recover music borrowed by his coworkers, so the songs might help him through the rest of his week-long work shift.
Playing The Last Friend is a blast with the alluring twist of teaming up with dogs in combat. Juggling the strategic placement of dog controlled turrets and executing fighting game-style combos against waves of enemies is a chaotic masterpiece. The complete package picks up from where Plants Versus Zombies left off while adding a healthy dose of adorable adrenaline and some musical social commentary through its comedic storyline.
Pros
-Great story with humorous characters and adorable dogs
-The fun balance between tower defense and beat 'em up style gameplay
-lots of turret and skill options to fit many playstyles
Cons
– not all upgrades or towers are useful
-easy learning curve can make some of the best strategies obvious
4 out of 5
Review key provided by Team Critical Hit. The Last Friend is out now!