The many mini-vehicles of Hot Wheels come to life with eye-popping graphics and intense racing action in Hot Wheels Unleashed.
Some toys are timeless. Board games such as Monopoly and action figures such as G.I. Joe are icons that sure to ignite fond, playful memories in fans of all ages. Among these names is Hot Wheels, the premier name in collectible car toys. Big names such as Ford and Honda have their replicas collide with names such as DC Comics and other fantasy brands to race on collectible Hot Wheels tracks, which can be built and customized by their owners. In Hot Wheels Unleashed by Milestone S.r.l., players will be able to experience collecting, racing and customizing tracks in an immersive gaming experience.
From the start, Hot Wheels Unleashed pulls you into its world. After opening a few blind boxes to start your Hot Wheels collection, you're introduced to the driving with a tutorial race. With controls that are easy to grasp and the stats being a reliable indicator of the performance of each car, the primary twist is the boost system. There are two different boost systems that your car can have, either a boost meter or boost charges. With a meter, you're able to control the distance you boost by pressing and holding the boost button for as long as you need the speed. Boost charges blast you forward a fixed distance at the tap of a button, with multiple charges able to be chained together towards one long boost. Both of these systems are charged by drifting while driving or by driving over charging pads.
This system gives each car its own identity and gameplay feel, which makes you want to collect them all with coins you earn from racing and other challenges. You're also able to upgrade cars using gears which you'll also earn from the same objectives, which offer major buffs or changes to a car's stats while changing its rarity. You can also break down duplicates of cars you get into either coins or gears, but some upgrades are more like changes to driving style rather than a flat-out enhancement, which may make you think twice about breaking down cars based on rarity alone.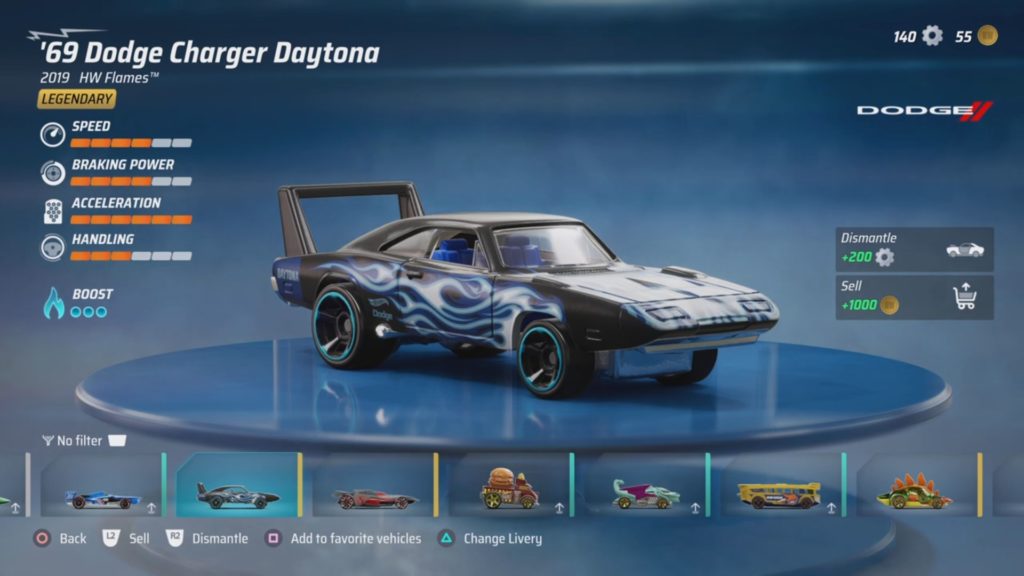 Controlling your cars is buttery smooth and each has its own small learning curve that feels satisfying to master. While the most rigid of these examples are found in the common cars you'll find early in the game, other cars such as the rare Buns of Steel food truck or Hot Wheels High school bus retain these quirks even after upgrading to the next level. While certain high-rarity cars feel simply like better versions of others, the sheer amount of cars makes sure there's something there for everyone. When the rubber hits the road, it evokes more of an F-Zero feel than anything because of the high speeds that push your vehicle through each tracks' gravity-defying environments.
You'll collect and compete against these cars in various races and time trial modes, but the main attraction of Hot Wheels Unleashed is the City Rumble mode. In Hot Wheels City Rumble, you'll travel across a map of Hot Wheels City to take on rival racers and the five bosses who are terrorizing the city. Each stage rewards a type of currency on top of other rewards, such as customization options for both tracks and your personal player ID.
While the City Rumble mode itself only offers two types of challenges, races and time trials, the variety of cars and tracks you'll encounter is staggering. This is complimented by a fun soundtrack that's packed with upbeat synth-pop jams that vary from smooth grooves to high octane beats. While each track is and their respective locales retain a familiar feel throughout the playthrough, the tracks themselves are incredibly dynamic and show off crazy amounts of high-flying, super-speed action.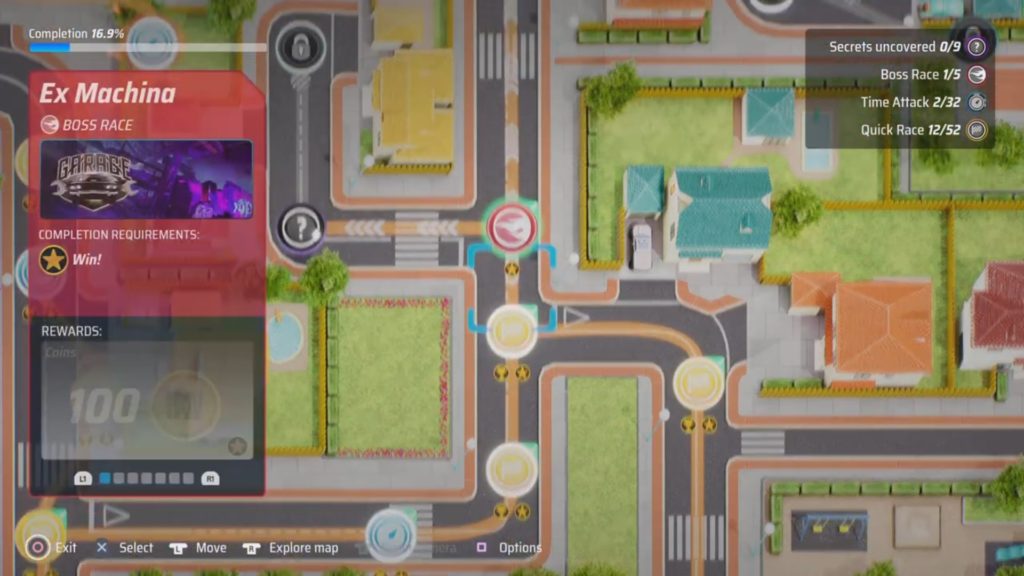 Getting behind the wheel is only scratching the surface of what the game has to offer, however. The track editor offers insane levels of customization that only get crazier as you unlock more modules. Magnetized track sections, high-speed loop-de-loops, web-shooting spiders and even defeated bosses can make an appearance on your custom tracks. These additions also allow for crazy track designs that can wrap around various obstacles within the locales you build them in. These elements can come together to create some wild combinations that will send you flying through these locales and zooming through nooks and crannies that must be played to be believed. During these moments, the photo mode shines as the perfect way to capture them from all angles. If you're looking to share your creations with the world, you can play it both online via upload and offline via split-screen multiplayer.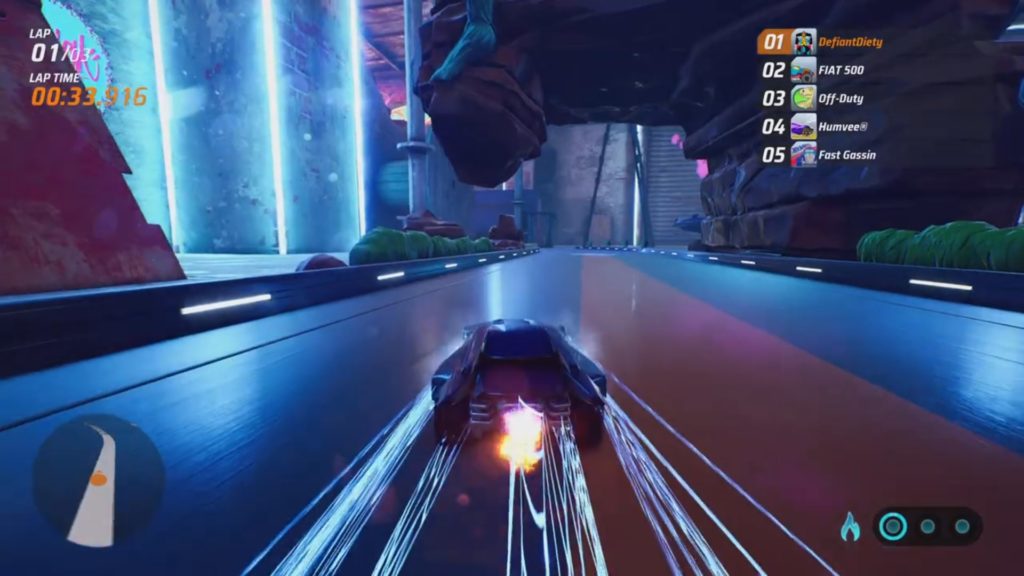 You're also able to customize not only your personal online profile, which is decked out in your own personal icon and banner, but every car you collect as well. The car customization is just as deep as the track editor, with multiple layers of every car able to be customized down to the build material. In addition, you're also given a basement room that feels more like a Hot Wheels hideout than anything else. Changes made here are reflected when you race in tracks that take place in the basement setting, which adds to the dynamic aesthetic of the environments.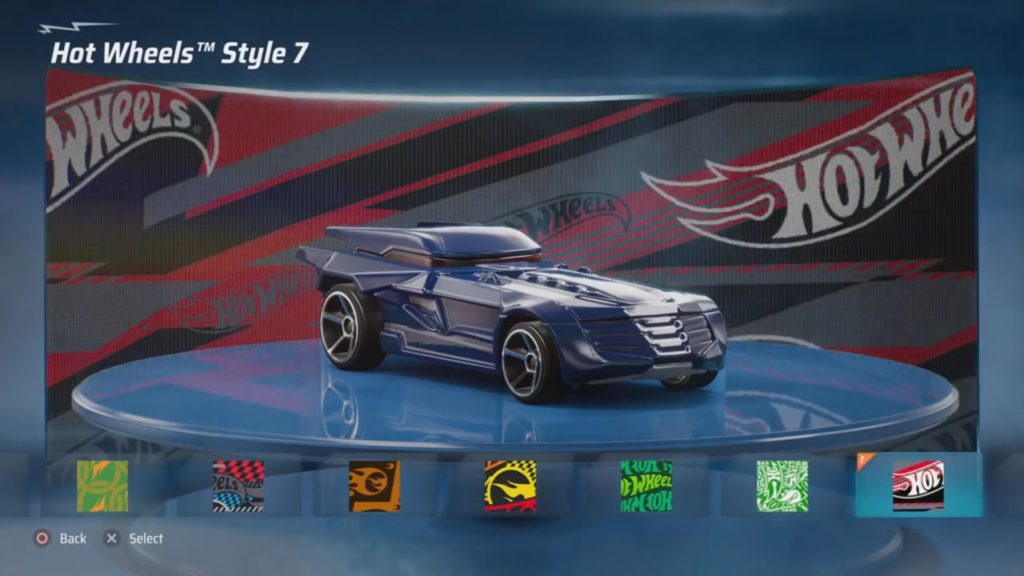 Hot Wheels Unleashed is the quintessential Hot Wheels experience. While the game leans more on the simulation side than the arcade side in gameplay feel and collecting cars can be a bit slow at times, the game more than makes up for it in content and style. A robust track editor, rock-solid gameplay and a huge host of Hot Wheels cars from your backyard to worlds of fantasy give this game a rare appeal that's hard to ignore. While the driving mechanics offer considerable depth to those who seek it, the basics can be picked up easily by anyone which makes the split-screen multiplayer a blast to play with anyone. For the Hot Wheels superfan, this is a must-buy, but anyone looking for a new racing game should pick up Hot Wheels Unleashed.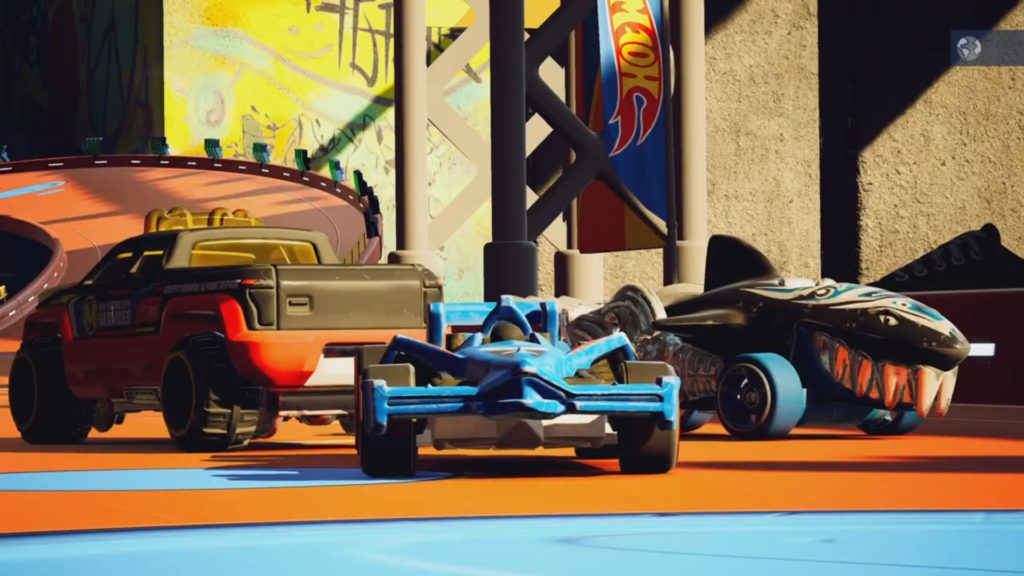 Pros
– Huge roster of collectible Hot Wheels cars.
– Robust track editor.
– Fun adventure mode that's packed with secrets.
– Tons of unlockable customization options.
– Catchy soundtrack.
Cons
– Unlocking more cars is a slow process.
– Simulation elements can be jarring.
– Higher rarity cars cannot be customized.
5 out of 5
Review key provided by PR. Hot Wheels Unleashed releases September 30th!