It's up to you to Defend The Rook from the forces of evil to break their time-twisting plot.
In Chess, you must defend your queen. In Defend The Rook by One Up Plus, you must defend your Rook from the various waves of enemies that stand to annihilate it. When a nefarious queen and an ancient gem demon stand to destroy the world, however, this small world opens up in a big way. While this small plot is slow to reveal itself, this tactical turn-based board game-style RPG is full of bonuses and style to keep you strapped in for hours.
The main draw of Defend The Rook comes from the addictive gameplay loop. You are the Magister, whose party was employed by the Gold Queen for conquest over the domain. While the Queen herself proves to be a traitorous entity, you and your party of a Warrior type, a Thief type and a Sorceress/Magician type will always be on the receiving end of a gauntlet of enemies. You'll fight them back at various locales around the realm and gather power-ups at the end of each round. You'll also unlock bonuses to fight off the endless hordes with and bonus enemies for more loot drops. Thankfully, you've got a lot of tools and unlockable characters at your disposal to combat your enemies.
Traps, spells and deployable towers are ways the Magister himself can influence the board. You can turn terrain obstacles into guard towers, place up to three traps anywhere on the map or support your heroes with spells. When everything comes together, combat becomes fast, furious and full of combos that deal tons of damage and are always satisfying to watch. You'll never want to make a careless move, however, as each time you finish the campaign it only reveals more of the mystery.
Reaching the end of the campaign the first time is merely the beginning of the story in Defend The Rook and each clear opens more of the world. Runs start and finish in the same zones, but the quest to get there can be through locales which have their own unique look and feel. Each run rewards you with some diamonds as a reward to upgrade your assets and characters as well, whether you clear the course or fail trying. These diamonds can be spent to unlock new and upgraded spells, characters and towers such as the Sniper Tower and the Samurai Warrior class. Each clear also unlocks a level of "ascension" alongside diamonds that serves as the most palpable form of progression.
These ascension levels augment your gameplay experience to match your upgrades and unlocks. From spawning enemy waves early, to stopping your heroes' healing between waves, each level you unlock will add a fair amount of difficulty. You will always receive diamonds, however, each time you clear or fail a run which makes the ascension system ultimately go at your own pace. This makes Defend The Rook a satisfying experience with an approachable learning curve that anyone can enjoy.
This is all presented in a simplistic aesthetic, for both the audio and visuals. Characters are simplistic and enemies feel generic, with their various mechanics being more memorable than their designs. No enemy or character is designed in a way that feels like it's meant to be striking or stand out, but boss fights such as the giant seahorse are memorable and fun experiences. While hits sound meaty and sound like they have weight on impact, the soundtrack itself is low volume and forgettable behind them. While it works, extended play sessions will reveal just how much heavy lifting the gameplay loop does and how addictive this turn-based tactical rogue lite formula really is.
The complaints ultimately add up to nitpicks as you play through the various boards and defeat the enemies in the world of Defend The Rook. While you'll get used to the various bosses and enemies, you'll rarely look at them with anything but excitement or tension since your team will almost never play the same way. It adds up to a gameplay style that rewards planning and adaptation with a ramp-up that feels fair each time you run a new campaign. The various character and tool choices also combine well with the rogue-lite elements and the upgrades that enemies drop to give your forces a fun sense of strategy and identity with a different gameplay feel each time. It makes for an entertaining and engaging gameplay loop that feels like a refined version of a game like Roguebook or Slay The Spire.
Defend The Rook is a must-play for fans of tactical turn-based rogue-lites. The randomizations never feel too intrusive or unfair, while the combat feels strategic and satisfying. The ascension system allows you to farm rewards and ramp up the difficulty at your own pace, while unlocking more rewards and gameplay augmentations as you delve deeper. While it's a bit rough around the edges aesthetically, Defend The Rook ultimately proves to be a fun and engaging experience that anyone can appreciate.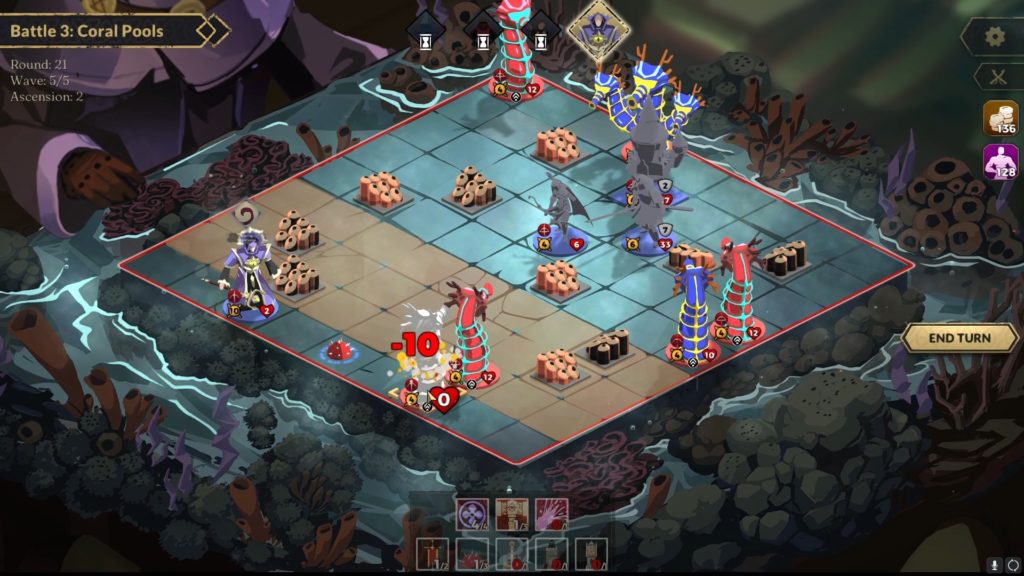 Pros
-Simple and addictive gameplay.
-Tons of unlockable upgrades and characters.
-Hit sound effects feel weighty and have impact.
Cons
-Boring visuals.
-Lackluster soundtrack.
4 out of 5
Review key provided by Goblinz Studio PR. Defend The Rook comes out on Steam on October 28th.