The Battle Royale genre gets an anime makeover in My Hero Ultra Rumble, where the cast of this iconic anime engages in epic free-for-all battles.
In recent years, players have witnessed the arrival of a diverse collection of free to play battle royales games, with each new arena pushing the capabilities of the multiplayer genre. Bandai Namco is soon to release its latest iteration of hero based battle royale game using fan favorite characters from the superstar anime My Hero Academia. During its worldwide beta test last week, we got to see how My Hero Ultra Rumble compliments the battle royale genre with its specialized teams of shonen heroes.
After the title screen we're greeted with a lobby window where players choose characters before entering a match. Characters in My Hero Ultra Rumble fall into different categories based on their abilities called quirk skills. Assault characters are durable and strike characters are built for offense. Rapid characters rely on fast movement abilities while support characters provide recovery assistance and technical characters specialize in disabling opponents. The tutorial provides instruction for each of the controls with a practice battle that follows. Movement allows for characters to dash and crouch as well as climb any wall to scale buildings and obstacles.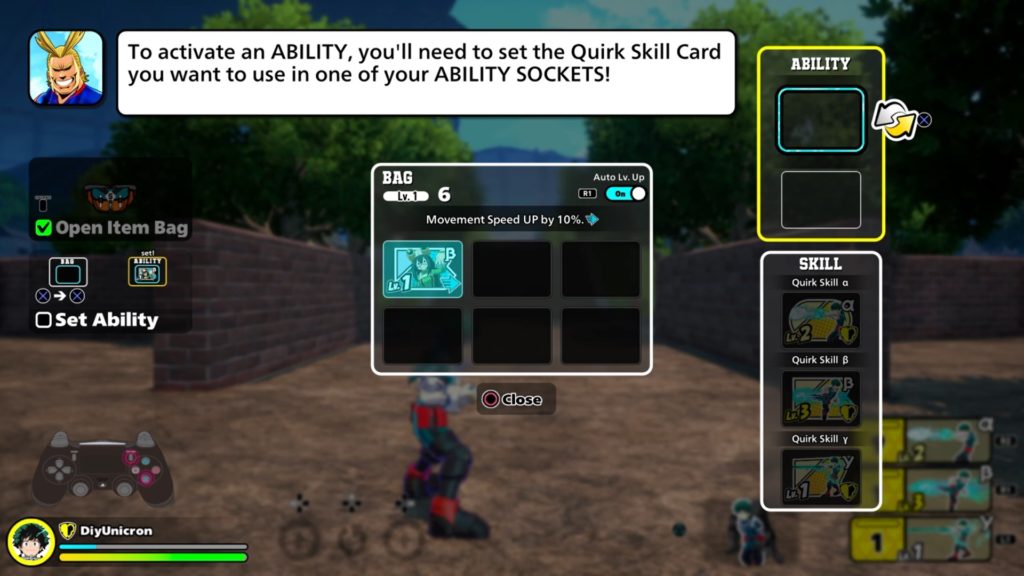 Characters have basic attack combos, a unique special action and three quirk abilities that cooldown similar to other battle arenas or hero shooters. One aspect that separates gameplay from others in this style is how items come into play. Exploring the environment and opening boxes will reveal quirk strengthening skill cards in one of three varieties representing each of the three skills. Level up cards can be used to upgrade a skill of your choosing, and there are recovery potions for health points and Guard Points, with GP depleting before the HP similar to armor. You also have two ability sockets that can be equipped and activated for temporary stat buffs.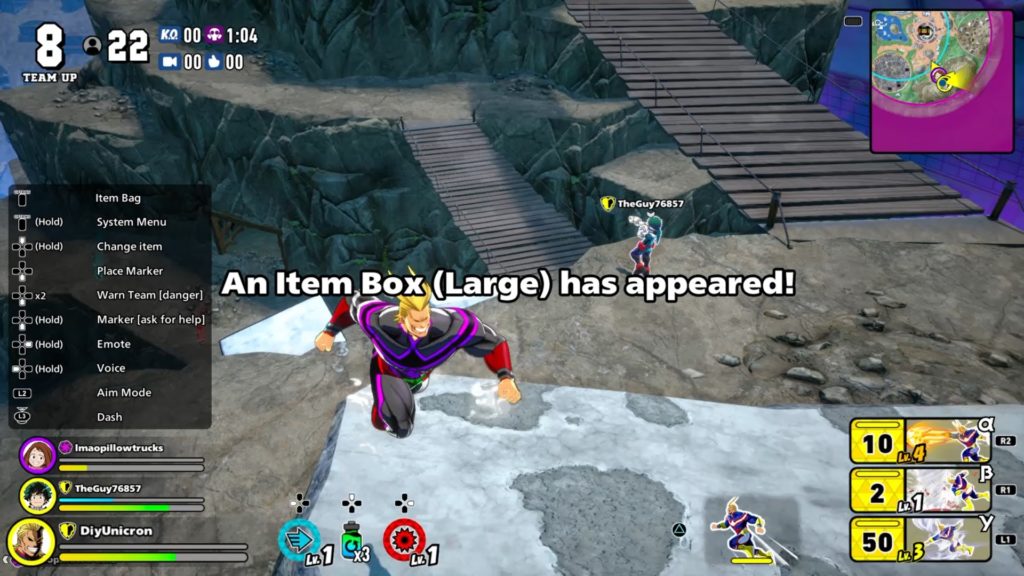 Once a character is chosen and matchmaking begins players are coordinated onto teams of three. Eight teams will choose their starting location on a large map with unique zones and combat environments before scrambling for any advantage they can get on the battlefield. Combat is well paced as once you familiarize with control concepts, survivability is based on timing opportunities to strike while powering up and playing into your hero's abilities, with a button dedicated to an aim mode because ranged attacks are standard for every character. This allows for seamless transitions from melee brawling to the accuracy of skill based shooting. With twelve characters on the starting roster, there is a lot of synchronicity to explore in building teams to complement the frenzied action.
Any character can achieve an advantage in battle if played correctly, especially after gathering the necessary items to level up their quirk skills. A couple of the more unusual characters are Tsuyu Asui, who uses her frog-like abilities to outrun foes, and Cementoss who supports allies in combat by creating large blocks or walls of cement. The biggest drawback to the My Hero Ultra Rumble is if you happen to lose early, it can take a while to wait out the end of the large group matches. However, you have the choice of either skipping to your results or earning more progress points per game by cheering on teammates and other players still in the game.
Taking notes from other online battle arenas, there's plenty of collectable cosmetic items, voice lines, emotes, to draw players back with progression and potentially more new content. With new daily challenges players can gather items that earn randomized chances at any of the new cosmetic items.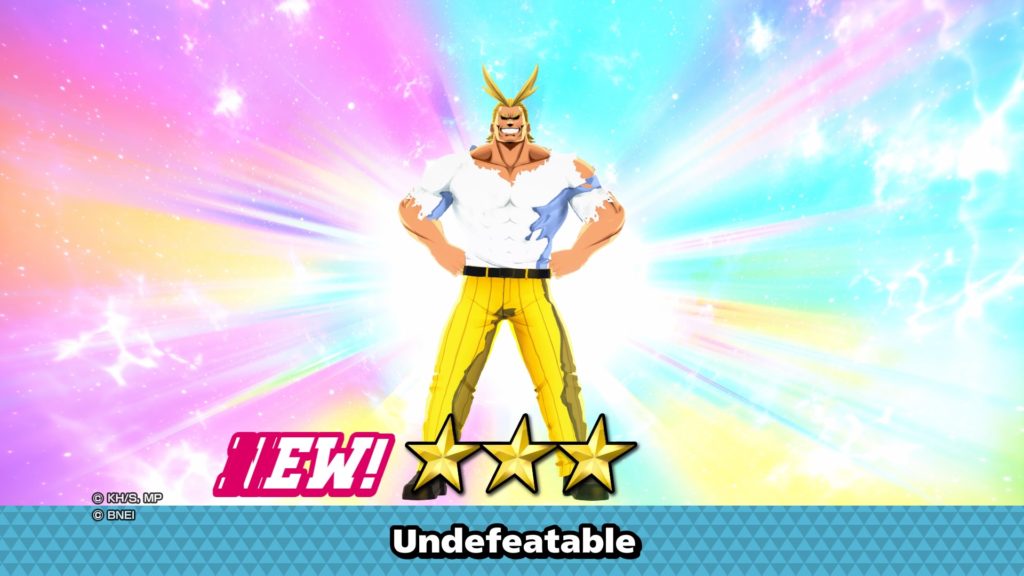 My Hero Ultra Rumble blends its hero elements with stunning anime flair. With its dramatic musical compositions and vibrant cell shaded graphics, the arena is set for competition. The ability to climb anywhere on the map and destroy pieces of the environment are among many quirks that keep gameplay interesting. Even before release day, My Hero Ultra Rumble is a welcome change of pace for battle royales sure to push expectations into a new direction. Check out our highlight reel below to check out what the action looks like!